Contact Corporate Vibrations to enhance your next event    
WHAT WE CAN DO FOR YOU
1. We enhance your existing meetings and events by facilitating engagement and creating an emotional connection with your audience.
2. We can help you create an engaging social event to build culture internally or strengthen relationships externally.
HOW WE HELP YOU
1. Out of the box-creative idea generation that will:
• Enhance your event & engage your audience
• Create an experience for attendees
• Drive positive culture across your organization
• Strengthen client relationships
2. We incorporate your vision, theme, and corporate pillars to create a unified and cohesive message to your audience.
3. One point of contact to communicate your vision, saving you valuable time and administrative work.
4. We alleviate hours of research during the planning process, letting you focus on other aspects of your meeting/event.
5. We facilitate on-site execution, allowing you the time to ensure your meeting/event runs smoothly.
EVENTS THAT WE ENHANCE
• Business Meetings
• Conferences
• Gala's & Awards Celebrations
• Cocktail Receptions & Social Events
• Trade Shows & Expos
• Client Appreciation Events
• Employee Appreciation Events
• Holiday Parties
SERVICE OFFERINGS
• WOW acts to Kick-off & Close your event
• Hosting & DJ Services to add Energy & Engagement
• Pump-Up Sessions to Energize Attendees
• Musicians & Bands
• Entertainment Options that Surprise & Delight
• Interactive & Team Bonding Components
• Food & Beverage Catering
• Event Design, Décor, & Ambiance Elements
• Photography Services including Photobooths & Videography
• Audio-Visual & Staging Services & Equipment
• Event Production & Creative Services
OUR APPROACH
We look at meetings and events through a unique lens and believe that "The right event experience can enhance the right corporate culture". People inevitably remember the feel and pulse of an event and if it emotionally engaged them. We are "The heartbeat of any event", and regardless of the message, it will be much better received if the audience is engaged.
ABOUT US
I officially launched Corporate Vibrations in 2012; since then, the organic growth has been remarkable! Starting off as a DJ & Emcee, I cultivated wonderful relationships with my clients and began to suggest ideas that would enhance their meetings and events well beyond DJ and Emcee services.
My number one priority is to create an amazing experience for attendees, while ensuring everyone remains engaged.
Dinesh Ramdial, Owner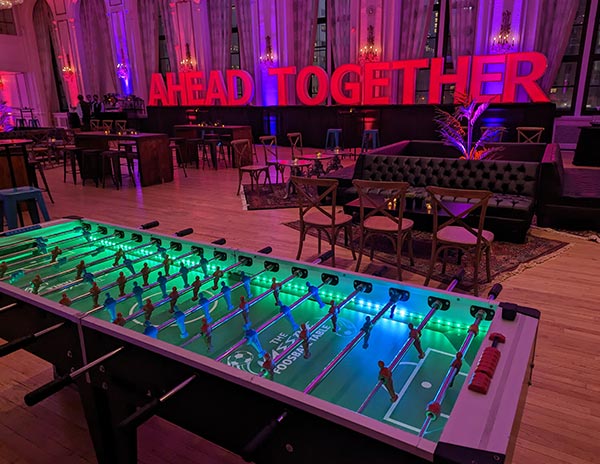 ENHANCE & CREATE
We offer a turn-key, one-stop shop approach, helping you ENHANCE or CREATE engaging events that attendees will talk about for years to come!
Are you looking to

ENHANCE

a current meeting/event or,

CREATE

an engaging social event?
Sign up for our newsletter to hear about trending event themes and offers.